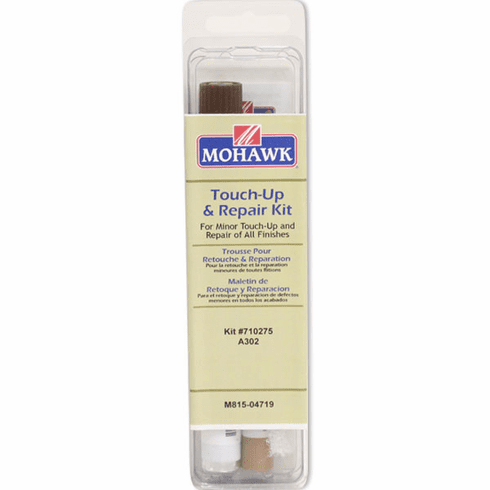 Kahrs Touch up Kit - 710275
Minor wood touch up repairs to Kahrs wood flooring can be made with the wood Touch-Up & Repair Kit by Mohawk made for the following Kahrs medium wood color floors. The Touch Up Repair Kit by Mohawk is for fixing small damage on urethane coated Kahrs hardwood flooring. A Pro-Mark capillary marker, a wood Fil-Stik, a white buffing pad and a plastic leveling card are included in this touch up set.
Mohawk wood touch up kit id:
M815-04719  
Kahrs part number:
710275 / A302
---
Use On Kahrs Floors:
Oak Monte Carlo B, Oak San Jose, Pecan, Red Oak Williamsburg, Teak, Oak Armagnac, Oak Cognac, Oak Pineau, Oak Brique, Oak Tarcot, Oak Grant, Oak Lincoln, Oak Bisbee
---
Use the Pro Mark marker to conceal scratches by applying in the direction of a scratch or to minimize the appearance of a worn area of floor by applying marker with the wood grain. Rub excess marker off of floor right away with a soft cloth until you are satisfied with the results. The Fil-Stick should be used to fill a scratch or scrape in the floor that needs added color and material to match the rest of your floor. Rub the fill stick into the damaged area and wipe of excess material with a cloth, or with the included plastic scraper leveling card or white textured pad. The two repair colors - marker and fill stick - may be used separately or together to best blend with your existing Kahrs wood floor. If the shine is too dull on the repaired spot of flooring, a clear top coat can be applied. The clear urethane top coat finish is not included with this small wood touch up set of wood repair tools.
Urethane, 1/2-Ounce size,
to blend with your floor's lacquer finish, can be purchased separately, in a very small size intended just for small touch ups to the sheen.
This do it yourself touch up set will fill many small blemishes on your Kahrs wood floor. Not every scratch will be completely invisible after fixing however most damages will be greatly improved and barely, if at all, visible.
For more serious damages to a Kahrs wood floor, you may need to buy the larger
lacquered wood floor repair kit
that contains melting wax and a heating tool along with other items to complete larger corrections to damage on your floor.